What is RJ45 surge protector?
RJ45 lightning protection device is specially designed for computer users in areas with inadequate lightning protection infrastructure, such as towns and mountainous areas with imperfect lightning protection facilities. Destructive electromagnetic waves such as lightning will enter the connected computer network port through the network cable, resulting in damage to the network port or even the computer motherboard. The RJ45 lightning protection device adopts international advanced lightning protection components, combined with excellent lightning protection circuits to protect the computer.The security of the network port and its motherboard greatly improves the ability of the signal port of network communication equipment to resist lightning strikes and surges.
THOR RJ45 SPDs are suitable for various devices with RJ45 network ports, such as RJ45 network port protection for computers, routers, IPTVs, printers and other equipment. RJ45 surge protection is 1, 2, 6, 4, 5, 7, 8. Effectively protect 100/1000M adaptive network cards and motherboards with integrated network ports, and pass the international standards EN61643-21/IEC61643-21.
Diagram of RJ45 surge protector: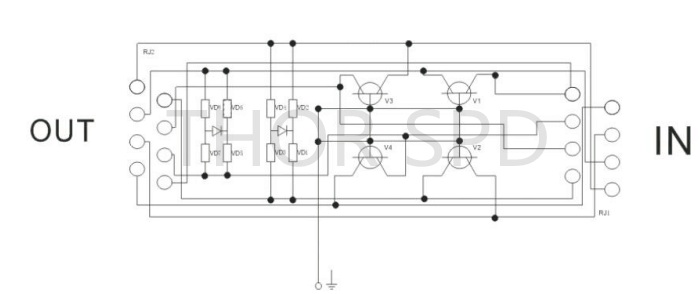 Electrical Characteristics

Type

TRSS-RJ45/8

Product model

POE

1 port

In accordance with

IEC 61643-21, EN61643-21

Normal Voltage (Vdc) : Un

48Vdc

Max.Continuous operating voltage(Vdc) : Uc

68Vdc(80vdc should be customized.)

Normal discharge current (8/20us) kA. : In

5

Max discharge current (8/20us) kA. : Imax

10

Lighting impulse current

(10/350us)

Iimp

1

Normal Current

IL

800mA

Voltage protection Level (V)

@1kV/us :Up

<45V(LL);<600V(LG)

@5kV 10/700/us :Up

<20V

Insertion loss

≤0.1dB

Response time

Instantaneous

Transmission Speed

1000Mbps

Type of connection In/Out

RJ45 (shielded) Female / Female

Ethernet cable Transmission performance

CAT 6

Connection Type

Series

Protective line

Data:1/2/3/6; PoE:4/5/7/8

Mounting

Inline / DIN rail

Material

Aluminum

Dimension (mm.)

94.5Wx25Lx25H

Weight (g.)

0.09/(With Din Rail: 0.125)

Operating temperature range

-40oC to +85oC

Environmental protection

IP20