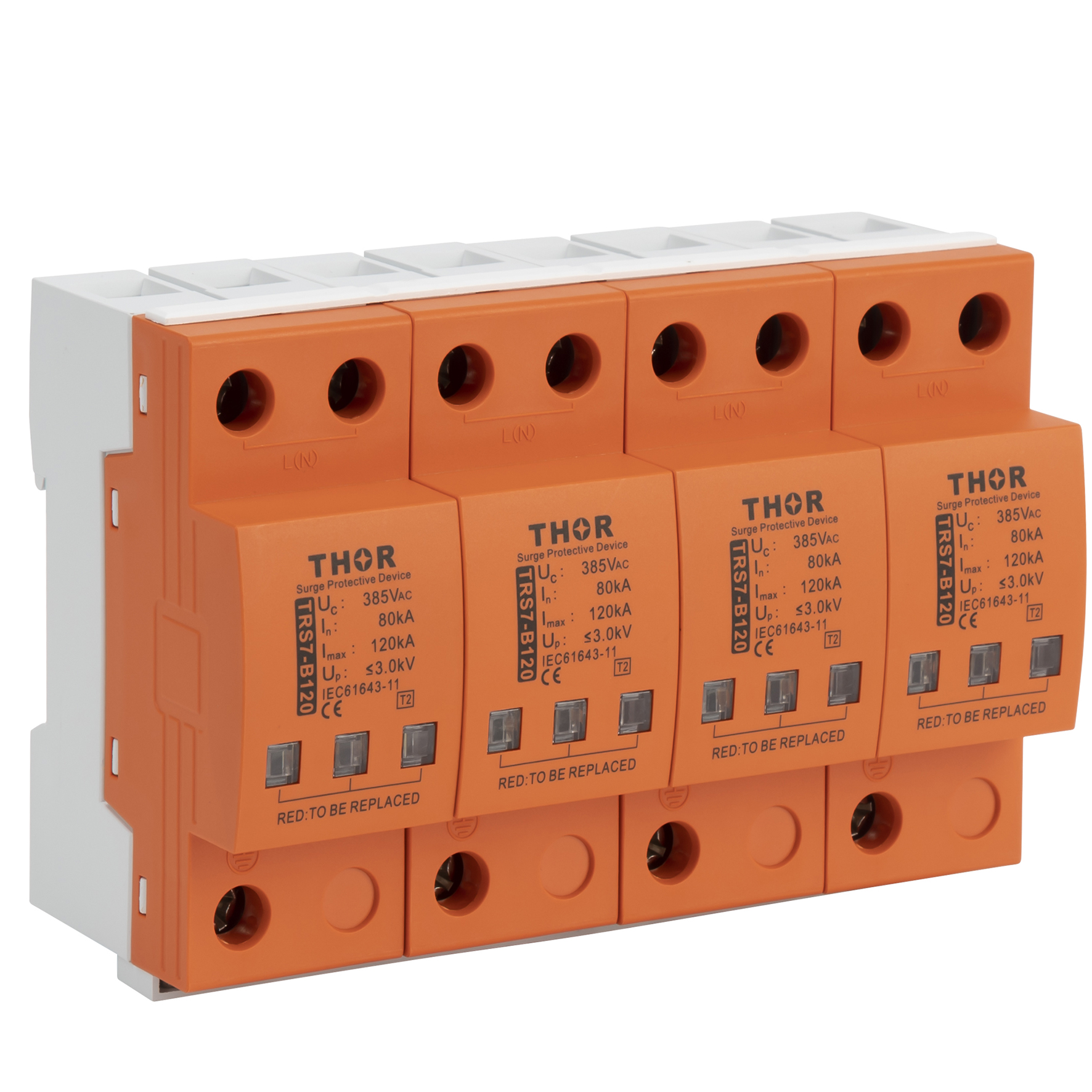 Type 2 AC surge protector

Imax: 80kA/100kA/120kA/150kA

MOV technology

unipolar phase

Remote signaling(option)

EN 61643-11/IEC 61643-11 compliant
The working principle of surge protection device:
The surge arresters commonly defined as SPDs (Surge Protection Devices), are devices designed to protect electric systems and equipment against transient and impulse overvoltages such as those caused by lightning strikes and by electric switching.
Their function is to divert the discharge or impulse current generated by an overvoltage to earth/ground, thereby protecting the equipment downstream.
SPDs are installed in parallel with the electric line to be protected. At the mains rated voltage, they are comparable to an open circuit and have a high impedance at their ends.
In the presence of an overvoltage, this impedance falls to very low values, closing the circuit to earth/ground.
Once the overvoltage has ended, their impedance rises again rapidly to the initial value (very high), returning to open loop conditions.
The Type 2 SPD is the main protection system for all low voltage electrical installations. Installed in each electrical switchboard, it prevents the spread of overvoltages in the electrical installations and protects the loads.
Type 2 surge protective devices (SPDs) are designed to protect electric installations and sensitive equipment against indirect surges and ensuring a low protection level (Up).
Type 2 surge protective devices provide effective protection against these dynamic disturbance variables. Whether in an industrial environment or in a residential building, type 2 protection ensures basic protection for your installations and devices.
The TRS7 series type 2 SPDs are available have a discharge capacity of 80kA, 100KA, 120KA, 150KA in single-phase or 3-phase configuration and with various voltages in order to protect any type of power supply system.
THOR Type 2 DIN-rail SPD features are offering quick thermal response and perfect cut-off function and providing fast and reliable protection for various power supply systems.And its capacity to safely discharge current with 8/20 μs waveform.
Built with window fault indication and optional remote alarm contact, it can monitor the operating status of the SPD itself.
Electrical Characteristics

Typ name

TRS7-B120

SPD type

T2

Max. continuous operating ac. voltage (50 / 60 Hz) (Uc)

385V

Voltage protective level(Up) (kv)

≤ 3.0 kv

Nominal discharge current (8/20μs) (In)

80kA

Max. discharge current (8/20μs) (Imax)

120kA

Max impulse current(10/350μs)Iimp(kA)

---

Residual Current

None

Follow current

None

Other Max.voaltge can be option

320v,385v,420v,440v....

Mechanical Characteristics

Technology

MOV

SPD configuration

1Pole, 2pole,3pole,4pole

Connection to Network

by screw terminals: L/N = 1.5-10mm² (16mm² rigid) or PE = 2.5-25mm² (35 mm² rigid)

Format

Plug-in modular box

Plugable

Yes

Mounting

Din rail 35 mm

Housing material

Flame retardant plastic

Working temperature

-40℃-- +70℃

Degree of protection

IP20

Response time

<25ns

Indication of invalidation

Normal: green; invalidation: red.

Remote of signalling

can be option if need

Dimension

see diagram