Indoor PoE surge protector
What is PoE?
POE (Power Over Ethernet) refers to the use of IP-based terminals (such as IP phones, wireless LAN access points AP, network cameras) without anchanges to the existing Ethernet Cat.5 cabling infrastructure. Etc.) While transmitting data signals, it can also provide DC power supply technology for such devices. The POE technology can ensure the normal operation of the existing network while ensuring the safety of the existing structured cabling, minimizing costs.
POE is also known as a local area network-based power supply system (PoL, Power over LAN) or Active Ethernet (Active Ethernet), sometimes also referred to as Power over Ethernet for short. This is the use of existing standard Ethernet transmission cables to simultaneously transmit data and The latest standard specification of electric power, and maintains compatibility with existing Ethernet systems and users. The IEEE 802.3af standard is a new standard based on the POE of the Power over Ethernet system. It adds a related standard for direct power supply through the network cable on the basis of IEEE 802.3. It is an extension of the existing Ethernet standard and the first international standard for power distribution. standard.
IEEE began to develop the standard in 1999, and the earliest participating vendors were 3Com, Intel, PowerDsine, Nortel, Mitel and National Semiconductor. However, the shortcomings of this standard have been restricting the expansion of the market. Until June 2003, the IEEE approved the 802.3af standard, which clearly stipulates the power detection and control items in the remote system, and connects routers, switches, and hubs to IP phones, security systems, and wireless LANs through Ethernet cables. The method of power supply for points and other equipment is regulated. The development of IEEE 802.3af includes the efforts of many company experts, which also allows the standard to be tested in all aspects.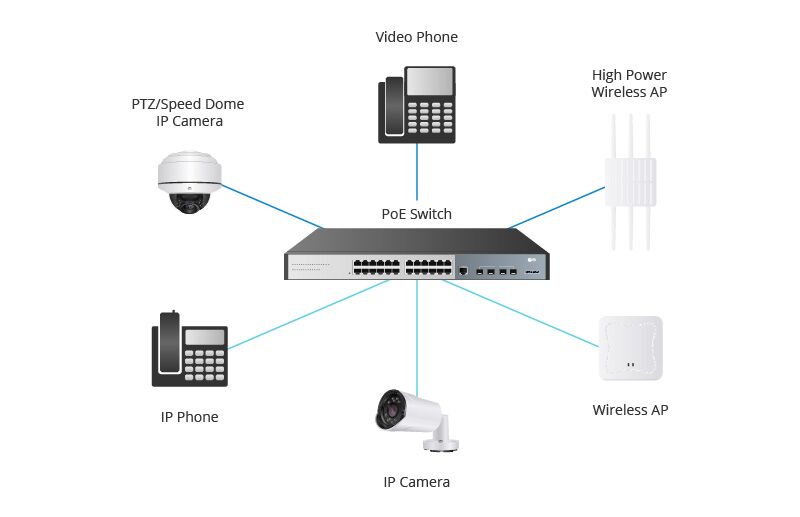 THOR Surge Protector for Gigabit Ethernet PoE :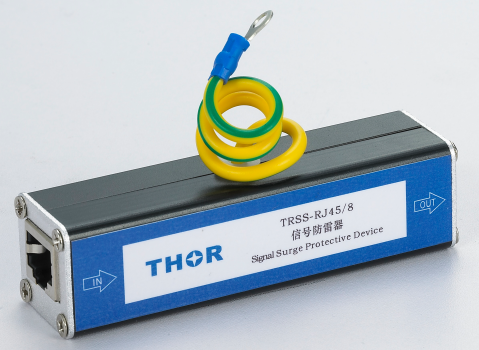 Data Surge Protector SPD TRSS-RJ45 Indoor Gigabit Ethernet PoE Shield RJ45 GDT Conforms to EN/IEC 61643-21.
THOR Gigabit Ethernet PoE Surge Protector/Lightning Arrester (also known as Data Line Surge Protector or SPD and Transient Voltage Surge Suppressor or TVSS) TRSS-RJ45 series can be manufactured within 7 to 10 days of 500 pieces or more many. Our Gigabit Ethernet PoE surge protector/suppressor protects your electronic equipment and supports long-term system reliability by absorbing large amounts of transient energy. This industrial Gigabit Ethernet PoE surge protection device for data line applications helps prevent damage that may be caused by energy spikes caused by lightning and other strong power. The TVSS/transient voltage surge suppression device for Gigabit Ethernet PoE can be used as a lightning arrester and an electrical overvoltage spike protection unit.
THOR's TRSS-RJ45 series data line equipment surge protector is designed to protect Gigabit Ethernet PoE from transient voltage power spikes. This commercial Gigabit Ethernet PoE surge protector provides high-quality surge suppressor protection. The data surge protection unit is suitable for indoor use. Samples of indoor Gigabit Ethernet PoE surge protectors can be provided free of charge and shipped within 1 week.
This THOR Gigabit Ethernet PoE SPD uses shielded RJ45 for connection. Our industrial Gigabit Ethernet PoE lightning and transient surge protection for suppressing power spikes is part of the TRSS-RJ45 series. The specifications and drawings of the Gigabit Ethernet PoE surge protector data sheet TRSS-RJ45 series and the PDF file of the detailed size information can be offered if needed.
The surge protection of the Gigabit Ethernet PoE device in this THOR SPD assembly takes the form of a gas discharge tube (GDT). The data cable TVSS uses a gas discharge tube (GDT) circuit to protect electronic equipment from spikes. The suppression of transient voltage surges caused by lightning and strong current spikes of Gigabit Ethernet PoE is handled by the GDT protection circuit in the data line SPD. The TRSS-RJ45 commercial Gigabit Ethernet PoE surge protection device complies with EN/IEC61643-21.
Product principle diagram: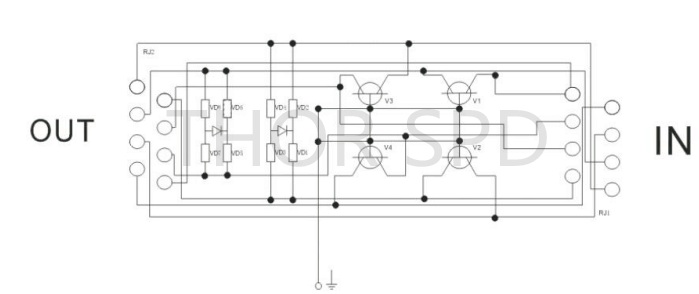 Features of

THOR Surge Protector for Gigabit Ethernet PoE:
1. Cost effective, light weight, easy to install and replace.
2. Lightning protection circuits utilize high energy dissipation
3. characteristics of gas discharge tube (GDT) technology, fast response time and repeatable low clamping characteristics of diodes
4.Protector can be mounted to a wall or 35mm DIN rail (DIN rail clip included and functions as ground connector)
Application of

THOR Surge Protector for Gigabit Ethernet PoE: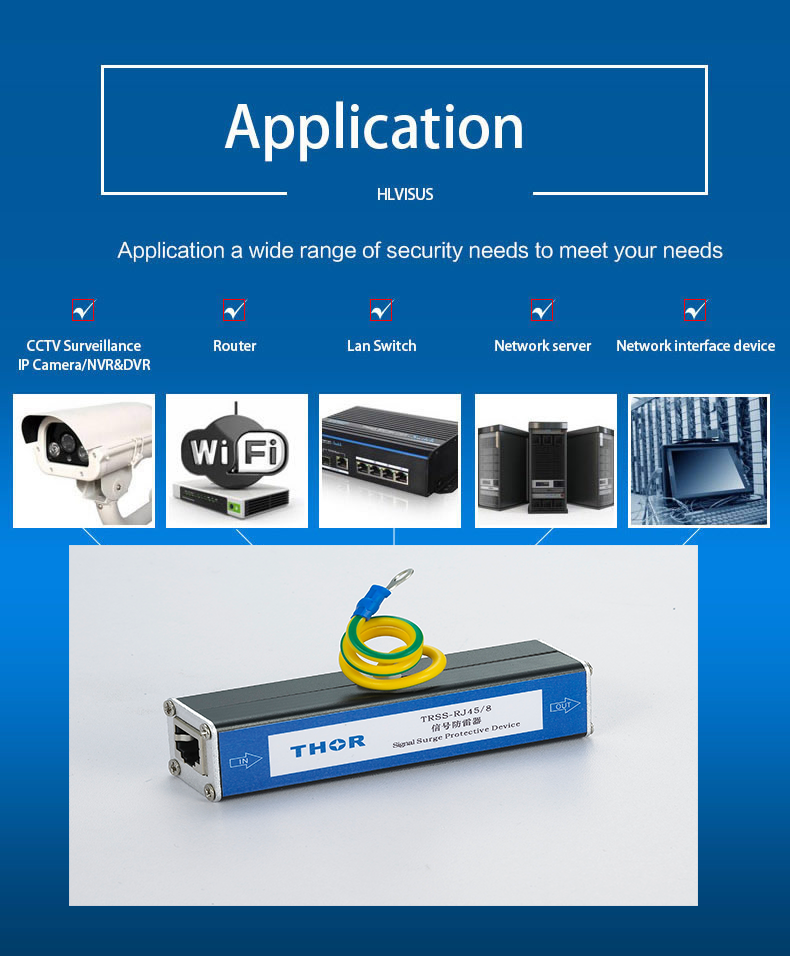 1. 10/100/1000Mbps Ethernet equipment
2. Intra-building cable runs
3. IP, network or web cameras
5. Wireless access points, newtwork servers and routers
---
More:
https://www.thorspd.com/signal_surge_protection/Ethernet_surge_protector_TRSS-RJ45_series/34.html
If wants to buy, weclome to contact us: cicely@thorspd.com